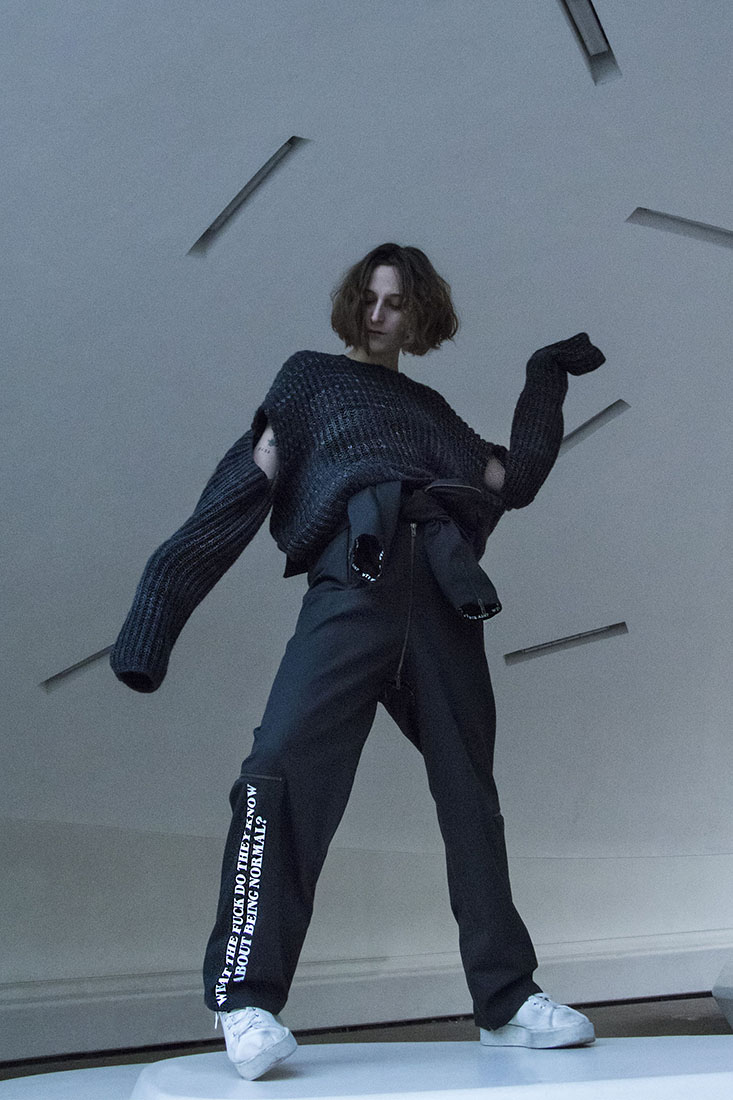 Capsule collection
Parsons School of Design
Dec 2016 - Mar 2017
ABOUT
"This is my manifesto.
a declaration of sorts.
To a brainwashed generation:
flooded with information
we live in a digital world
be aware.
That screen you see
a reflection of your identity
communicating to others,
confessing secrets,
transforming your image.
Make a statement.
Take control of your identity.
Express your individuality.
No matter how absurd.
They will watch
scorn, ridicule
No matter.
Who cares.
Show your true meaning
What the fuck do they know about being normal?"
Interrupted is a collection that merges technical design with creative vision, transforming traditional streetwear silhouettes for a modern generation. The collection's combination of typography, artistry, and streetwear edge represents my perspective on fashion.

Clothes contain slogans stating "confess your secrets", "brainwashed", and "connection failed" - speaking to a generation relient on technology. The silhouettes, many of which are suitable for men and women to wear, give a nod to military, workwear, and uniform styles. These types of clothes, which function to unify groups of people (such as airforce, construction team, or office space) are juxtaposed with a message of individuality to create a dichotomy and dialogue between wearer and outside world. Also important to note is that many of the looks, one of which I prototyped, are transformable through the use of different hardware. The idea of transformation and multi-functionality maximizes the wearer's wardrobe to reduce excess clothing. With regard to fabrication, all of the printed textiles are custom prints or were stencil printed by hand. This reinforces the concept of personalization in the clothing.

Balancing typograpy and graphics with bold silhouettes and strong color accents, the wearer can express their individuality and stand out in today's technological world.